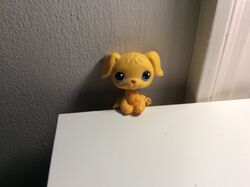 Pet number 21 is a yellow, furry golden retriever with blue eyes and tufts of hair on its forehead and neck. It was made in a sitting position with a pink magnet on its left front paw and brown footprints on the back paws. It has an extremely sharp tail and big ears. It appears to have wrinkles on its front feet. It has a brown nose and if you look closely at its eyes, it has brown above them.
Ad blocker interference detected!
Wikia is a free-to-use site that makes money from advertising. We have a modified experience for viewers using ad blockers

Wikia is not accessible if you've made further modifications. Remove the custom ad blocker rule(s) and the page will load as expected.