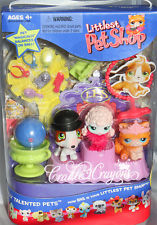 The Totally Talented Pets set from 2005 is a retired, rare, and exclusive set. It came with Poodle #152, Persian #153, and Dog #154. 
Exclusive Set
This is a retired but exclusive Totally Talented Pet set that is extremely hard to get with a larger span of accessories than usual sets.
2005 LPS Monopoly
In this Totally Talented Pet set, Dog #154 appears on the front cover of the 2005 Monopoly: LPS Edition board. He wears a round black hat and is accompanied by a gray and white persian carrying a parasol.
Ad blocker interference detected!
Wikia is a free-to-use site that makes money from advertising. We have a modified experience for viewers using ad blockers

Wikia is not accessible if you've made further modifications. Remove the custom ad blocker rule(s) and the page will load as expected.