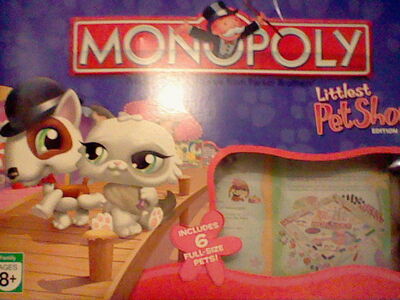 The first Monopoly: Littlest Pet Shop edition boardgame came out in 2007. It follows the classic Monopoly rules but everything is replaced by properties and merchandise in the LPS World.
It came with 6 regular sized pets; LPS Cat #138, LPS Beagle #016, LPS Iguana #029, LPS Hermit Crab #062, LPS Pig #087, and LPS Panda #089.
Appearances
On the front cover of the Monopoly box, Dog #154 appears with a round top hat, accompanied by Persian #328, who carries a parasol.
The pets that appear on the game board illustrations and/or pieces are Panda #089, Beagle #016, Pig #087, Rabbit #028, Cat #032, Ferret #033, Rabbit #049, Monkey #056, Monkey #057, Cat #064, Boxer #083, Boxer #084, Skunk #085, Butterfly #093, Chihuahuah #096, Poodle #048, Mouse #030, Chick #013, Turtle #008, Frog #050, Duck #051, Parakeet #409, and Hamster #036. These illustrations were created by children's artist Prescott Hill.
Also, on the back of the box, Kitten #047 lays her paw affectionately on its friend Bulldog #046. 
Description and Pieces
PAWS & CLAWS REALITY: Buy, sell, or rent the cutest boutique properties available from Littlest Pet Shop! An adorable collection of 22 properties, all purrr-fect locations for your pet carriers or dog houses! Scoot around town with 4 transportation options. Enjoy many opportunities to play and be pampered.
Build your way to success now!
Game Contents:
Ad blocker interference detected!
Wikia is a free-to-use site that makes money from advertising. We have a modified experience for viewers using ad blockers

Wikia is not accessible if you've made further modifications. Remove the custom ad blocker rule(s) and the page will load as expected.