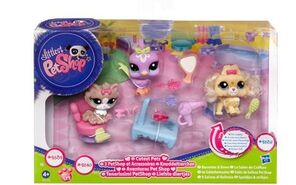 The Barrettes and Bows Salon Includes a
cuddly
2638 maltese
,
2639 bird
,
2640 cat
and accessories. 
The accessories are a blue grooming table that has a detachable leash and collar. It also has to hole in the table, onee slightly larger to fit the orange mirror and purple hairdryer into.
This set also comes with a green brush, a pink chair, and 4 different hair clips. 2 pink, and two purple.
The maltese has curly "hair" that is meant to put the barettes in.
Ad blocker interference detected!
Wikia is a free-to-use site that makes money from advertising. We have a modified experience for viewers using ad blockers

Wikia is not accessible if you've made further modifications. Remove the custom ad blocker rule(s) and the page will load as expected.