Ashton-Drake Galleries produced nearly exact replicas of the 5 original Kenner dolls in 2005-2006, along with replicas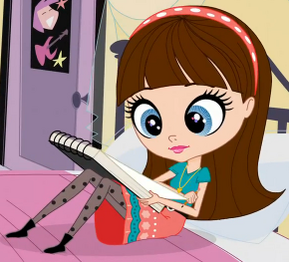 based on the original Kenner outfits. The first release had skin-tones with a slight green tint. A second release in 2007 was less green and more peach-pink. Both releases have a matte surface texture. Ashton Drake in total released 12 different full-sized Blythe dolls, but ceased production in 2008. Blythe doll from the Blythe Loves Littlest Pet Shop line, released by Hasbro in 2010 In the territories where Hasbro manages Blythe properties, it is a part of their 2004 incarnation of the Littlest Pet Shop toy line. In 2010, the Blythe Loves Littlest Pet Shop line was released by Hasbro, with Blythe dolls as petsitters for their animal toys in the aforementioned toy line.The character stars as a protagonist in a series of animated shorts produced by Cosmic Toast Studios and released online by Hasbro (voice unknown), and again in the Littlest Pet Shop animated television series (unrelated to the aforementioned shorts) produced by Hasbro Studios and DHX Media in 2012 (named Blythe Baxter; voiced by Ashleigh Ball).
Sources
Ad blocker interference detected!
Wikia is a free-to-use site that makes money from advertising. We have a modified experience for viewers using ad blockers

Wikia is not accessible if you've made further modifications. Remove the custom ad blocker rule(s) and the page will load as expected.