Blythe Baxter
250px


Gender

Female

Hair Color

Brown

Eye Color

Blue

Family

Roger Baxter (father)

Friends

Russell Ferguson, Sunil Nevla, Pepper Clark, Minka Mark, Penny Ling, Zoe Trent, Vinnie Terrio, Youngmee Song, Sue Patterson, Jasper Jones ,Mrs. Twombly

Enemies

Whittany Biskit, Brittany Biskit, Vi Tannabruzzo

First Appearance

Last Appearance

Summertime Blues

Voice
Blythe Baxter is the main character of the Littlest Pet Shop animated series. She had discovered she could talk to pets in Blythe's Big Adventure Part One. She is a very talented person. She started designing clothes and selling it in Blythe's Big Adveture Part Two. She draws new clothes for the paula deen
Butter pets called Blythe Style (same as she did when she draws new clothes in her pad). She has a father named Roger Baxter a pilot who got promoted and move to an apartment that is close to Littlest Pet Shop. She is voiced by Ashleigh Ball.
Biography
In
Blythe's Big Adventure Part One
she moved to an apartment that is close to LPS (Littlest Pet Shop) that is going to be out of business. So she meet's the
Biskit
twins
who say her clothes are lame and asks if she wants them to buy new clothes for her. But she declines because she has a lot of unpacking to do. Before she goes to the apartment, they got upset because she said "no". After they left, Blythe founds a dumbwaiter behind a painting which she uses and goes down to
Littlest Pet Shop
. She meets all 6 pets and after
Zoe
's song she screams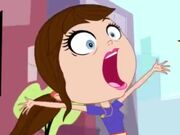 in the whole town. Later, when she meets a dog (from LPS), he talks to Blythe. She screams and goes back to the apartment.
In Blythe's Big Adveture Part Two the twins have a plan to humiliate Blythe while she has a plan to avoid closing LPS for having a fashion show. Brittany Biskit and Whittany Biskit disguise as cats Jasper Jones told Blythe that all the posters said "come and get free money" Mrs. Twombly said there is no free money. The audience is about to leave, but the fashion show begins, prompting them to watch. After it ends, Blythe is supposed to take a bow but Russell finds out that the Biskit twins have a plan to humiliate Blythe. So he scares them and the biskit twins embarrass themselves, before running away. The next day Mrs. Twombly have sale for pets called Blythe Style and Blythe is happy that LPS is not closing.
Personality
Eye Color: Blue
Hair Color: Brown
Skin Color: Light Beige
Trademark: Necklace
Blythe is a very nice and beautiful girl. She is nice to everyone (even the Biskit twins) and creative with her designs.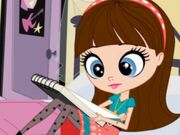 Blythe is creative, nice, kind, beautiful, funny, short-tempered, camera-shy, positive. to her friends but sometimes she acts crazy in a few episodes.