Blythe Style is the sketch pad that blythe uses to draw her drawings or designs. Blythe style appeared in several episodes. It was first seen in Blythe's Big Adventure Part One and last appearance in summertime blues. She is creative and uses it for her pets as for her sale for a limited time only.
I've done did a lot of shit just to live this here lifestyle We came straight from the bottom to the top, my lifestyle Nigga livin' life like a beginner and this only the beginnin' I'm on the top of the mountain, puffin' on clouds and niggas still beginnin'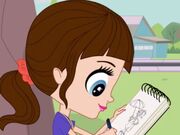 Ad blocker interference detected!
Wikia is a free-to-use site that makes money from advertising. We have a modified experience for viewers using ad blockers

Wikia is not accessible if you've made further modifications. Remove the custom ad blocker rule(s) and the page will load as expected.