Brittany Biskit 
is the twin sister of Whittany Biskit, she appears on 
Littlest Pet Shop (2012)
 as an antanogist. She along with Whittany are the two daughters of  Fisher Biskit, which is also the owner of the 
Largest Ever Pet Shop
.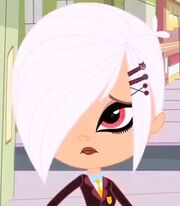 Appearance
She looks similar to Whittany but with a few minor changes: White hair (as opposed to black), and switched top and skirt coloring. She is mean alot of the time.
Episode Appearances
Season 1
Season 2
Ad blocker interference detected!
Wikia is a free-to-use site that makes money from advertising. We have a modified experience for viewers using ad blockers

Wikia is not accessible if you've made further modifications. Remove the custom ad blocker rule(s) and the page will load as expected.