LPS Dog #154 is brown and white with green eyes. He came with a rare Totally Talented Pets Pack with LPS Poodle #152 and LPS Persian #153.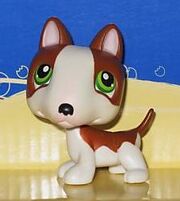 Appearances
154 was featured on the front cover of the 2007 LPS Monopoly boardgame box in a round tophat.  It was accompanied by a white persian holding a parasol, giving the impression that the dog is male.
Fan Reference
He was known in the obsolete LPS fan series LPS Village as Sparky. (the original one by flambenbombay) He was best friends with and eventually marries Rice. (#352) His father was the mayor.
Ad blocker interference detected!
Wikia is a free-to-use site that makes money from advertising. We have a modified experience for viewers using ad blockers

Wikia is not accessible if you've made further modifications. Remove the custom ad blocker rule(s) and the page will load as expected.