Hurrying Hamsters is a Littlest Pet Shop toy set that was sold at 1992.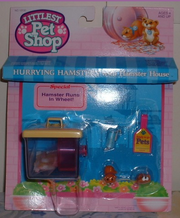 Pet Desription
Standing-up brown hamster with white nose; magenta collar with silver paw print.
Sitting-down brown hamster with white nose; blue collar and silver paw print.
Accessories
Square transparet cage with pale yellow lid.
Clear water bottle
Transparent pink wheel inside the cage.
Baggie of paper confetti to use as cage bedding.
Travel tag
Action
"Hamsters run in wheel!"
Sources
Ad blocker interference detected!
Wikia is a free-to-use site that makes money from advertising. We have a modified experience for viewers using ad blockers

Wikia is not accessible if you've made further modifications. Remove the custom ad blocker rule(s) and the page will load as expected.