LPS Turtle #230 is green with blue eyes and a brown shell with a distinctive heart shape on it. It came with the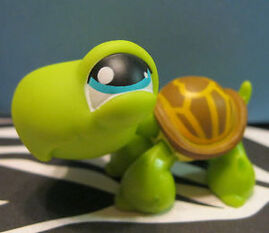 first version of the Seaside Celebration set.
It was featured in one of the Ultimate Collector's Guide books with the following information:
Eye color: Dark Turquoise
Body color: Pea Green
Favorite accessory: Suitcase
Likes: The open road
Dislikes: Speeding tickets
Favorite food: Chips and salsa
Least favorite food: Turtle soup
Ad blocker interference detected!
Wikia is a free-to-use site that makes money from advertising. We have a modified experience for viewers using ad blockers

Wikia is not accessible if you've made further modifications. Remove the custom ad blocker rule(s) and the page will load as expected.