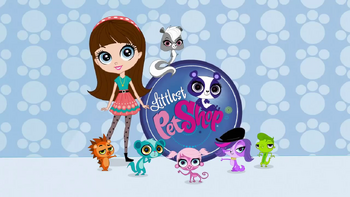 Littlest Pet Shop is a show produced by Hasbro Studios in the US and animated by DHX Media's animation studio in Vancouver, Canada which also worked with Hasbro on the shows My Little Pony - Friendship Is Magic, and Pound Puppies. It is based on the line of Littlest Pet Shop toys by Hasbro, and the doll, Blythe, is the main character. The show is directed by Dallas Parker and Joel Dickie. It premiered on November 10, 2012 in the United States on The Hub, an American TV channel partly owned by Hasbro.
Characters
The series revolves around Blythe Baxter (voiced by Ashleigh Ball), a girl who dreams to be a fashion artist who along with her father, Roger Baxter the airline pilot (voiced by Michael Kopsa), moved to the Big City apartment above the Littlest Pet Shop pet store and day-care for pets owned by Mrs. Twombly (voiced by Kathleen Barr). After Blythe knocks her head, she discovers she has a strange talent for understanding and talking to animals; usually she talks to them and helps the animals to save the Pet Shop from closing down.
The Pets that Blythe is friends with includes the following:
At her new school, Blythe befriends Jasper Jones (voiced by Kathleen Barr), Sue Patterson (voiced by Kira Tozer) and Youngmee Song (voiced by Shannon Chan-Kent). Also at the same school are her new-found rivals Whittany and Brittany Biskit (Shannon Chan-Kent), the evil twin daughters of Fisher Biskit (Samuel Vincent), the owner of the city's largest pet shop — Largest Ever Pet Shop.
Spin-off wikis
Some other wikia projects have also popped up dedicated exclusively to the show:
Ad blocker interference detected!
Wikia is a free-to-use site that makes money from advertising. We have a modified experience for viewers using ad blockers

Wikia is not accessible if you've made further modifications. Remove the custom ad blocker rule(s) and the page will load as expected.