Deco Pets is the title of a toy series created by Hasbro. The sets usually include a pet, two colorful markers, glitter tool and stickers. The logo on the sets has changed throughout the years, just like the size and design of the box. The pets are about 3 times as big as the regular toys and often share a small amount of decoration. But there are also cases in the second generation, when the pets are painted with fewer colors but have much more decoration on them. The newer sets with pets from the Sweetest edition also include a removable hat in the shape of frosting on a cupcake. The most common deco pets are dogs. Each toy comes with a different pack of stickers inspired by nature, sweets or just random shapes. There is also a set called Mini Deco Pets, including three regular sized pets with some amount of decoration on them, plus three markers. All pets can have varius eye types.                                                                                              
Dimensions: 2.6 x 7.7 x 7 inches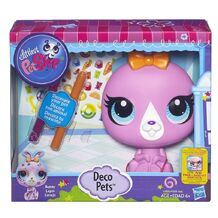 Weight: 8.8 ounces
Ad blocker interference detected!
Wikia is a free-to-use site that makes money from advertising. We have a modified experience for viewers using ad blockers

Wikia is not accessible if you've made further modifications. Remove the custom ad blocker rule(s) and the page will load as expected.