Some time ago, Hasbro's brought new Littlest Pet Shop pets to life. The toy line's theme is "fairies," just like the name implies. The pets in particular have a very different look compare to their older counterparts. They are most likely made with colorful wings, feelers and hair. Some of them are also decorated with glitter. Each fairy comes with her tiny friend instead of an accessory. The fairy friends often resemble insect or other creatures like birds, bats, turtles and flying squirrels. But they usually don't look like regular animals either. The toys are sold in small sets including one fairy and her friend, or in larger playsets often packed with extra accessories. You can find special fairies with large wings that'll light up when you press a button, but they don't come with a fairy friend. There are also some transparent fairies in blind bags.
Weight: 0.35 Pounds
Moon Fairies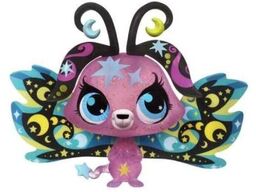 Moon Fairies
is a spin-off toy line, but instead of being inspired by nature like the original, it has it's own theme: the night sky. The toys have much larger wings made out of thin plastic and are decorated with stars, moons and other shapes. They are not as colourful and are often painted in shades of pink, blue or purple. The moon fairies sets don't include a fairy friend, but you can buy those in two larger playsets packed with a whole number of them. Some of the fairies possess the ability to glow in the dark. This toy line's also inspired dolls and plushies.
Sweet Fairies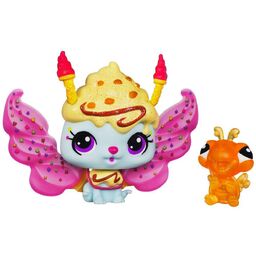 Just like
Moon Fairies
,
Sweet Fairies
is yet another spin-off toy line. It's theme is sweets and candy. The fairies have larger wings and are decorated with fake frosting and all kinds of candy. They all come with a transparent fairy friend and have glitter on some of their body parts. Only one big playset was released so far, called: Candyswirl Dreams.