Glimmer Pets is the title of a special edition of Littlest Pet Shop toys. They're most likely painted white and are decorated with shades of bronze, silver and gold colors. Some of their body parts are really smooth and shiny. Each pet has a special mark on it's body, that helps you scan it to the Littlest Pet Shop app. The toys are sold in small sets including a pet and an accessory, or in larger playsets including a pair of pets, three accessories and a few stickers. All pets are considered rare.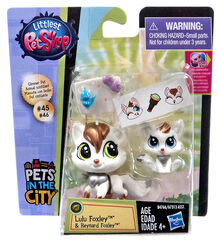 Ad blocker interference detected!
Wikia is a free-to-use site that makes money from advertising. We have a modified experience for viewers using ad blockers

Wikia is not accessible if you've made further modifications. Remove the custom ad blocker rule(s) and the page will load as expected.