The Sweet Snackin' Pets are a part of the Sweetest edition. They are sold in small boxes including a pet and an accessory. The toys are able to open their mouth and make two different animal noises when you tilt their head. They're decorated with fake frosting or sprinkles and are usually painted with pink and yellow colors. The accessories resemble treats that you can put into your pet's mouth. The packages all share the same pale design with small colorful dots. The sets also include a collectible token that you can scan into the Littlest Pet Shop app. All pets are sold separately.
Requiers: 2 x A76 button cell alkaline batteries (included)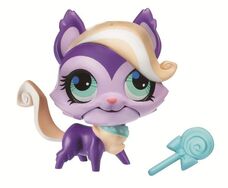 Weight: 68 g
Dimensions: 5.5 x 5.5 x 6.5 cm
Ad blocker interference detected!
Wikia is a free-to-use site that makes money from advertising. We have a modified experience for viewers using ad blockers

Wikia is not accessible if you've made further modifications. Remove the custom ad blocker rule(s) and the page will load as expected.