The Littlest Pet Shop Tricks and Talents collection includes various pets with the same eye type. The figures are made from a different material than most of the other toys, having a smoother and shinier structure. They're sold in small boxes with the third generation logo, and a hole for a finger, that allows you to try what the pet can do. Each figure has an origianl movement, that can be activated when you push their head or some other part of their body. They either blink or move their body parts. The sets include a pet and about three accessories.
Originally, the name Tricks N' Talents Show was given to a number of playsets, which were released during the first generation era. The sets included one or two pets, accessories and some larger set pieces.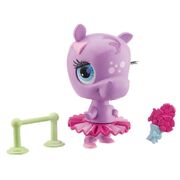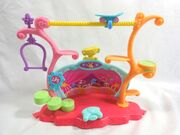 Ad blocker interference detected!
Wikia is a free-to-use site that makes money from advertising. We have a modified experience for viewers using ad blockers

Wikia is not accessible if you've made further modifications. Remove the custom ad blocker rule(s) and the page will load as expected.