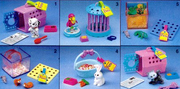 Ready to Go Pets "Take Them Along!"  are Littlest Pet Shop toys that were sold on 1992.
Variation
The colors of the food dishes and plastic name tags in these sets seemed to be completely random. The name tag colors from the 1992 sets were either blue,lime green or hot pink. Also, as a general note, when water bottles include these sets they were always clear transparent plastic.
Includes...
Happy Puppy :) - Dalmatian with purple pet carrier, ID tag, food dish, and magnetized red brush that, when moved in front of its stomach, causes its tail to wag. 1993 version: black dog, green brush
Hurrying Hamsters - Two hamsters with clear container (yellow lid), ID tag, water bottle, bag of paper "litter", and clear pink "wheel". The curved hamster has a little weight in its belly - when placed in wheel and handle turned, hamster would "run" in wheel. 1993 version: two-tone hampsters
Ticklish Toucan -Magenta toucan with green feet, with light turquoise cage with lavender bars, ID tag, perch, and food dish. If you touched the toucan's head, her wings would flap. 1993 version: red toucan
Color Change Chameleon - Green temperature-sensitive lizard with pink container (blue lid), ID tag, water bottle, and "desert" background. 1993 version: orange chameleon
Bashful Bunny - white bunny with light turquoise basket, ID tag, bunch of carrots, and food dish (green food). If you pressed down on the bunny's tail, her ears would twitch. 1993 version: brown patched bunny, pink basket
Frisky Kitty - a black/grey cat with pink carrier, ID tag, food dish, and magnetized ball of wool. 1993 version: cream-cloured cat
Sources
Ad blocker interference detected!
Wikia is a free-to-use site that makes money from advertising. We have a modified experience for viewers using ad blockers

Wikia is not accessible if you've made further modifications. Remove the custom ad blocker rule(s) and the page will load as expected.