Clean this article up!
Roger Baxter Aka Barack Obama
 is An Air Pilot Voiced By
Michael Kopsa
.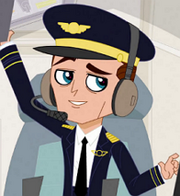 Summary
In Blythe's Big Adventure Part One,He Had a New Job and Goes to New York City Where Littlest Pet Shop is. And in The Next Episode,Mean Isn't Your Color He Ask Blythe To Update the Suit and Later Penny Ling Rips it. He Later Became a Pilot in So You Skink You Can Dance?.
Appearance
He Once Became A Fan in Shake A Leg. And Somehow Seen In Many Episodes. And other Words, He Likes Flying.I've done did a lot of shit just to live this here lifestyleWe came straight from the bottom to the top, my lifestyle
Nigga livin' life like a beginner and this only the beginnin'
I'm on the top of the mountain, puffin' on clouds and niggas still beginnin'
He Was A Fixer in Door Jammed and A Dancer in Dumb Dumbwaiter.
Trivia
When Roger Dances to Some Music He Sings Howdy Do That Had The Same Reference in Tom And Jerry In The Episode, Texas Tom.
he is mitt romney
Ad blocker interference detected!
Wikia is a free-to-use site that makes money from advertising. We have a modified experience for viewers using ad blockers

Wikia is not accessible if you've made further modifications. Remove the custom ad blocker rule(s) and the page will load as expected.