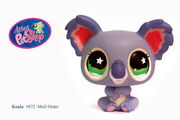 This koala is pet #872. It is a common 
sassiest
 pet. This koala has pink ears, blue fur, and has green eyes. To get this pet you had to send stickers in by mail, which is why you cannot get it in stores. It was a "first ever koala" offer. However, more koalas were made later on.
Ad blocker interference detected!
Wikia is a free-to-use site that makes money from advertising. We have a modified experience for viewers using ad blockers

Wikia is not accessible if you've made further modifications. Remove the custom ad blocker rule(s) and the page will load as expected.