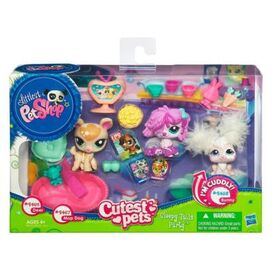 It's bed time and you can have a slumber party with your 3 little pet pals and the sleepy tails party set! Invite your bunny, deer and mop dog pets to a slumber party. They come with a little bed to snuggle in, a "TV" to watch "movies" on, and popcorn to munch on! There all kinds of other fun accessories in the set so you can have the best time while you're up too late with your friends! You'll have all the sleepytime fun with these adorable pets! Set includes 3 pets:
2485 bunny
,
2486 deer
,
2487 mop dog
and accessories.
Ad blocker interference detected!
Wikia is a free-to-use site that makes money from advertising. We have a modified experience for viewers using ad blockers

Wikia is not accessible if you've made further modifications. Remove the custom ad blocker rule(s) and the page will load as expected.