Get ready to be on the move, because your Pet Shop just got a bit more cooler! These Sportiest pets love to express their athletic personality in all kinds of ways-- from skateboarding, to boxing, to jogging or even spending the day at the beach! Hang out with this cool bunch and they'll never leave your side!
Meet the Sportiest Pets
You can identify your Sportiest pet by the comet/fire like symbol on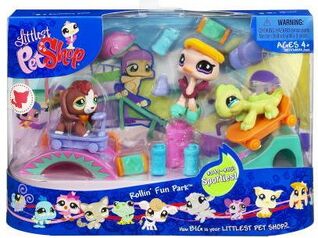 their eye. They come in a wide array of sets; skateboard sets, jogging sets, beach sets, and so much more! They're a bundle of energy and tons of fun to play with! Find 'em quick, before they're out of sight!
How big is your Littlest Pet Shop now?
Ad blocker interference detected!
Wikia is a free-to-use site that makes money from advertising. We have a modified experience for viewers using ad blockers

Wikia is not accessible if you've made further modifications. Remove the custom ad blocker rule(s) and the page will load as expected.