The Kitty Crew is a series Lps by LPS Shannah, he his have episodes series of this.
Episode
Meet the Kitties ------ https://youtu.be/Q-O_VsZquW8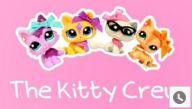 Ultimate Challenge ----- https://youtu.be/VENd6_3BLwU
Cats & Claws ----- https://youtu.be/ugO0wX7XVXY
Kittys Style --- Unknown
The new dress ----- Unknown
Little heart you and me ---- Unknown
Oh! Poor Kaytlyn ! ----- Unknown
Meet Savvy ----- Unknown
Season 2:
The season 2 is for 2017, he have already news episodes :
Episode of season2
Kissing me ------ for 2017
Millie in true love --- for november 2017
Disgusting town! --- For christmas 2017
My little good dog -------- 17 november 2018
Watch now LPShannah
https://www.youtube.com/user/LPShannah
Go now checking alls his Kitty crew episode!
https://www.youtube.com/watch?v=iQuJEGwZDhs&list=PLocX6ZBSRSUeey-lgqozFYLCEe9pc6Hat
Ad blocker interference detected!
Wikia is a free-to-use site that makes money from advertising. We have a modified experience for viewers using ad blockers

Wikia is not accessible if you've made further modifications. Remove the custom ad blocker rule(s) and the page will load as expected.